Benefits of WordPress for Custom Web Development
Whatever your industry, in a digital-first age, an online presence, a custom website for your company is an absolute must for any chance of success.
With so many options, one of the most overwhelming decisions for a company building a new website involves which content management platform to use.
Easy-to-use and versatile, WordPress has revolutionized web development, becoming one of the most robust content management systems in the industry.
In this article, we'll cover the basics and continue with an overview of how WordPress can benefit your company's custom web development.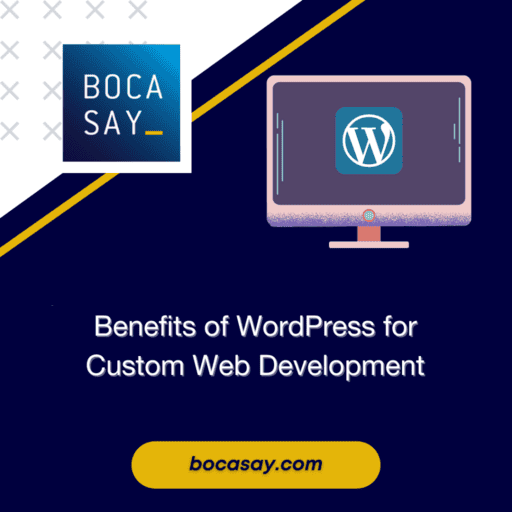 What is WordPress?
Sometimes referred to as 'a website factory', WordPress is a free and open-source content management system (CMS) that allows users to build and maintain websites without any advanced coding knowledge. If you already have a domain and hosting service, then WordPress can be used to build anything from personal websites, online stores, subscription sites, media galleries and learning management systems. Founded and released in 2003 as a blog-publishing platform by Matt Mullenweg and Mike Little, WordPress is used by approximately 30% of all websites. As offshore outsourcing company, many of our clients use WordPress for their showcase site.
What are the benefits of WordPress for custom web development?
Versatility
Regardless of the size of your business, or the type of industry you are operating in, web development in WordPress will most likely meet all your needs. Here are just a few examples of the type of website applications WordPress can facilitate:
Blog Management.
Personal Websites.
E-Commerce Websites.
Job-Posting Forums.
Company & Brand Websites.
Wiki / E-Learning Websites
Multilingual Websites.
Memberships Websites.
Online Stores.
Auctions and coupons Websites.
Cost-Effectiveness
WordPress is based on open-source software and that makes it free. It also means that its source code is constantly being updated and improved by some of the finest software developers from around the world. An open-source model offers an abundance of web plugins and themes that can cater to the functionalities of any type of web development project. There is simply no other CMS platform available that offers that level and range of customization potential for free.
Scalability
As businesses and their needs change according to market forces, it is important to choose a web development platform that is flexible enough to adapt to evolving business requirements. With thousands of available WordPress website plugins, you can easily add new functionality to your website.
For example, if your number of monthly visitors is sky-rocketing, you might want to consider adding a membership section to your website in order to offer exclusive content or services.
𝕐𝕠𝕦 𝕒𝕣𝕖 𝕕𝕖𝕧𝕖𝕝𝕠𝕡𝕚𝕟𝕘 𝕪𝕠𝕦𝕣 𝕠𝕟𝕝𝕚𝕟𝕖 𝕡𝕣𝕖𝕤𝕖𝕟𝕔𝕖, 𝕒𝕟𝕕 𝕪𝕠𝕦 𝕟𝕖𝕖𝕕 𝕒 𝕔𝕦𝕤𝕥𝕠𝕞 𝕤𝕠𝕗𝕥𝕨𝕒𝕣𝕖 𝕥𝕠 𝕡𝕣𝕠𝕘𝕣𝕖𝕤𝕤 𝕚𝕟 𝕥𝕙𝕖 𝕖𝕧𝕠𝕝𝕦𝕥𝕚𝕠𝕟 𝕠𝕗 𝕪𝕠𝕦𝕣 𝕓𝕦𝕤𝕚𝕟𝕖𝕤𝕤? 𝔹𝕠𝕔𝕒𝕤𝕒𝕪'𝕤 𝕠𝕗𝕗𝕤𝕙𝕠𝕣𝕖 𝕠𝕦𝕥𝕤𝕠𝕦𝕣𝕔𝕚𝕟𝕘 𝕔𝕠𝕞𝕡𝕒𝕟𝕪 𝕚𝕤 𝕣𝕖𝕒𝕕𝕪 𝕥𝕠 𝕞𝕖𝕖𝕥 𝕒𝕝𝕝 𝕪𝕠𝕦𝕣 𝕕𝕚𝕘𝕚𝕥𝕒𝕝 𝕔𝕙𝕒𝕝𝕝𝕖𝕟𝕘𝕖𝕤! 𝔻𝕚𝕤𝕔𝕠𝕧𝕖𝕣 𝕠𝕦𝕣 𝕥𝕖𝕒𝕞 𝕙𝕖𝕣𝕖 𝕒𝕟𝕕 𝕔𝕠𝕟𝕥𝕒𝕔𝕥 𝕦𝕤 𝕟𝕠𝕨!
Security
Website security is a major consideration for any company looking to establish an online presence. Hacking attacks and online malware can be costly and can ultimately destroy client trust in your website.
With cybersecurity being a top-priority for companies of all sizes, WordPress offers high-security as long as its users install the latest updates, provided by a team of experts that constantly monitor WordPress code for software vulnerabilities. There are also WordPress security plugins that can scan your website for malware.
SEO
Search engine optimization (SEO) is absolutely crucial for engaging the potential users or customers of any website. Regardless of your specific market sector or niche, WordPress offers many free SEO plugins that can help your company establish an online presence and attract your intended target customers.
WordPress Plugins like Yoast SEO enable you to evaluate the SEO quality of your website content, as well as offer their users improvement recommendations based on best SEO practices.
Media-Ready
A cutting-edge website cannot rely on text alone in order to capture the attention of intended users. A wide range of media types is required as a way of engaging users and potential customers, and establishing long-term brand loyalty. WordPress can basically handle just about any media file type out there. Images, 3D graphics, video and audio, as well as documents, can all be easily incorporated into your custom web development, offering an attractive and functional user-experience.
Mobile-Friendly
With more than half of all internet traffic coming from mobile-devices, all successful online businesses have to establish a mobile-friendly digital strategy. These days, our ever-present mobile devices are used in anything from dating to food shopping. Easy and mobile access has become the standard. Another great benefit of choosing to develop your web project in WordPress, is that most WordPress website themes, even the free ones, are already pre-programmed to be responsive and optimized for mobile use.
Voice-Search
The availability of high-speed internet connections and the widespread use of smartphones has also accelerated the development of voice-searching. Searching for your needs online through voice-commands will only continue to gain popularity in the future, as users will continue to demand the easiest solutions for their everyday needs. WordPress web development offers plugins like Voice Assistance Dialog Navigation, easily integrating the capacity for voice search commands in your website and establishing a highly-accessible user experience.
Augmented Reality
Another cutting-edge feature of WordPress web development is its ability to facilitate augmented reality. This feature enables users to try and test products virtually, which is basically a game-changer for a wide range of online stores and e-commerce sites. Not only does augmented reality elevate the online shopping experience, it also drives up sales through increased customer-brand interaction. Simple-to-use plugins like AR for WordPress, allow businesses to showcase their products through interactive 3D models.
Community Support
No WordPress issue can be left unresolved when this software has been adopted by so many users and companies around the world. By developing your web project in WordPress, you get to enjoy the support offered by a robust community of experts. Building websites with WordPress is easy because there is an abundance of tutorials, guides and other online resources that can help you optimize your custom web development according to your specific business requirements.