How to Develop Software in Vietnam without Speaking English?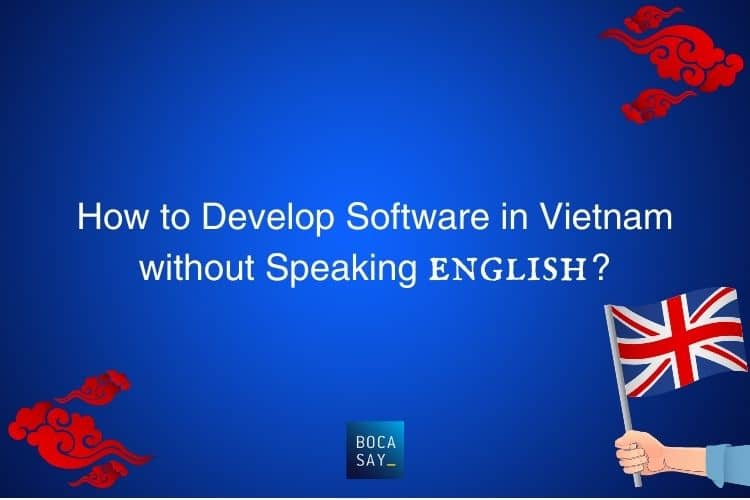 In a context where IT outsourcing is an essential pillar of many companies' strategies, it is crucial to explore innovative solutions to address the challenges that arise. For many companies, the language barrier is a significant obstacle to outsourcing software development in Vietnam; they do not have sufficient command of the English language, which is often seen as a requirement for such projects.
However, solutions exist. Establishing hybrid teams that combine Vietnamese developers with a project manager based in France, Mauritius, or Madagascar, who is fluent in French, emerges as an innovative and highly effective strategy.
The Foundations of IT Outsourcing
The concept of IT outsourcing is not new to 21st-century businesses. Numerous studies, including those from Gartner and McKinsey & Company, highlight its significant role in the business world. According to the Gartner Hype Cycle for Outsourcing, Offshoring and Nearshoring (2021), IT outsourcing is positioned at the heart of the adoption cycle, serving as a transformation catalyst for companies worldwide.
It is essential to recognize that IT outsourcing goes far beyond cost reduction. It provides privileged access to a diverse and highly skilled talent pool, offering flexibility that adapts to changing market needs.
IT Outsourcing: A Revolution Supported by Recent Research and Studies
IT outsourcing is now a well-established practice, recognized and supported by studies and research reports from renowned institutions. For example, the McKinsey Global Institute conducted an in-depth survey on outsourcing, showing that companies outsourcing their IT activities achieve substantial cost savings. According to their report, some companies can expect to save up to 40% of their IT costs by outsourcing to emerging markets like Vietnam.
Furthermore, the Boston Consulting Group, in a recent study, highlighted access to specialized skills as one of the key benefits of outsourcing. Companies that outsource can leverage the technical expertise of professionals from around the world (Madagascar, Vietnam, or Mauritius), thereby accelerating the development of their IT projects. Access to a global talent pool has become a crucial strategy to remain competitive in an ever-evolving environment.
Flexibility is another key aspect. Reports from the Harvard Business Review emphasize that outsourcing allows companies to quickly adapt to market fluctuations. Companies can adjust their resources according to changing needs, which is particularly important in the IT industry, where projects vary in size and complexity. This helps avoid unnecessary fixed costs and maintain the agility necessary for growth and profitability.
However, like any project, there are challenges to overcome, including the language barrier. Let's delve into this challenge in more detail, along with the associated solutions.
The Challenges of English in IT Outsourcing to Vietnam
Effective communication is the cornerstone of any successful outsourcing project. Nevertheless, language barriers have often hindered the flow of information and resulted in significant delays.
As Tim Hwang, director of the Institute for the Study of Reputation and Decision Economics, pointed out, "Ineffective communication can lead to exorbitant hidden costs and significant disruptions in project execution." This underscores the need for innovation in how we approach outsourcing, and mastering English to collaborate with Vietnamese developers seems essential.
This is why companies that do not have a strong command of the English language tend to opt for relocating their applications to French-speaking countries. However, this overlooks the solution of the "hybrid team," which simplifies overcoming the language barrier.
You can easily build a tech team in Vietnam with Bocasay.
An Innovative Solution: ⭐️ The Hybrid Team
To overcome these communication challenges, the innovative approach of the hybrid team emerges as an easy-to-implement and effective solution. By forming a team of developers based in Vietnam and a project manager or Product Owner located in France, Mauritius, or Madagascar, companies effortlessly bypass language and cultural barriers while benefiting from the cost advantages offered by these offshore destinations.
This approach, which is increasingly gaining traction, was mentioned in a Deloitte report titled "Hybrid Outsourcing: The Future of International Collaboration" in 2022. Deloitte emphasizes that this fusion of local and international skills promotes the exchange of ideas, innovation and best practices, creating a diverse and enriched environment that naturally supports project success.
TechSolutions Highlights Its Success with the Hybrid Team Model
Recent examples eloquently illustrate the relevance of the hybrid team approach. As Andrew Miller, CEO of TechSolutions, noted in an interview with the Harvard Business Review in 2023, "We have seen a significant improvement in the quality of our products and a reduction in time to market since adopting the hybrid approach."
Companies like TechSolutions have been able to leverage this innovative strategy in order to accelerate their growth and enhance their competitiveness.
Selecting and Managing a Hybrid Team
The formation and management of a hybrid team require careful planning. Bocasay, an offshore web development agency, specializes in assembling hybrid teams for over a decade. According to a 2022 report from the Stanford Project Management Institute, "Selecting the right team members and managing communication processes are key elements in ensuring the success of hybrid outsourcing."
The choice of the project manager and developers is crucial, as well as the establishment of effective communication channels to maintain a transparent information flow.
Vietnam proves to be a top choice for IT outsourcing, with a spectacular growth in its tech sector. According to the World Economic Forum's Global Competitiveness Report in 2022, Vietnam ranks among the top 50 countries in digital skills. High-quality software development expertise and competitive costs make Vietnam a key player in IT outsourcing.
Build tech team in Vietnam, with the implementation of hybrid teams, is an innovative strategy that overcomes language barriers while offering numerous benefits for companies. Reports from renowned organizations and expert testimonials in the management and technology fields confirm the excellence of this approach. It is now up to companies to seize this opportunity to remain competitive in the global market by forging international partnerships that transcend geographical and cultural boundaries.