The Evolution of Digital Behaviors
The internet's ever-increasing growth, a range of technological advances and smartphones have all contributed to the emergence of new digital consumers. These consumers expect the same quality of service online as they do in-store. They place particular importance on quality, cost, security and brand identity.
Today's consumers carry internet-connected devices with them everywhere. You no longer need to rely on TV commercials, billboards or salespeople for advice on the best products and services. In fact, digital consumers generally prefer to do their own product research online.
Gartner data shows that the average B2B buyer has already decided to buy before contacting the seller 57% of the time.
The same applies to BtoC commerce. Thanks to social media and online review sites like Trustpilot, it's quick and easy to find out what others are saying about the consumer goods you are interested in. As a result, it has become necessary for marketers to engage customers earlier in the research phase of the buyer's journey.
However, for marketing managers to do this job effectively, their role must expand. Companies must move quickly to modernize their marketing departments in order to meet the demands of a more connected and informed consumer.
As an offshore outsourcing company, we are well aware that trends and technologies are changing at a rapid pace, as are customer needs. In this article, we provide an overview of the main characteristics of new digital consumers.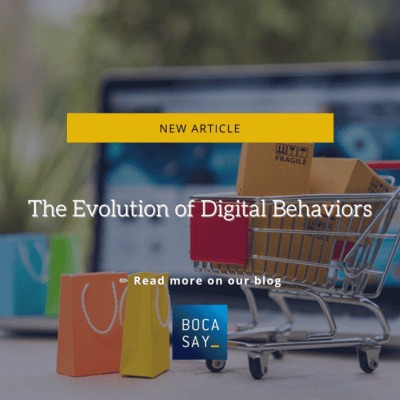 The main characteristics of digital 2.0 consumers
Research, comparisons and unique experiences
The Internet is flooded with product information, ideas, comparisons, reviews and free trials. Before making a purchase decision, today's consumers typically spend valuable time researching different product categories, brands and services. Companies must deploy smart SEO tools and techniques in order to make themselves easily discoverable online and to make sure they stand out among their competitors.
Simplicity and seamless consumer journeys
The entire experience of researching for products and services, or simply browsing before buying, must be free of obstacles. Smooth transactions, minimal waiting times and automatic responses form the basis of a digital consumer's experience. A simple interface bug, a double-checking request via email, or even an out-of-stock product, can be enough to send the customer back to your competitors.
Budget first
Consumers expect high-quality products and services at affordable prices. Marketers are basically responsible for this expectation because they have gradually trained most consumers to shop by price. With price ultimately being the deciding factor for most purchases, it's a competitive race to the bottom.
Unlimited availability
Whether it's during store hours, product deliveries, returns, or customer services via email or telephone, consumers do not 'forgive' brands that appear to be temporarily unavailable. They expect access to products and services at all times, and if not possible, a more able competitor will always be available to satisfy their requirements.
𝔻𝕖𝕧𝕖𝕝𝕠𝕡 𝕪𝕠𝕦𝕣 𝕠𝕟𝕝𝕚𝕟𝕖 𝕡𝕣𝕖𝕤𝕖𝕟𝕔𝕖 𝕨𝕚𝕥𝕙 𝔹𝕠𝕔𝕒𝕤𝕒𝕪! 𝕎𝕖𝕓𝕤𝕚𝕥𝕖 𝕔𝕣𝕖𝕒𝕥𝕚𝕠𝕟, 𝕤𝕠𝕗𝕥𝕨𝕒𝕣𝕖 𝕕𝕖𝕧𝕖𝕝𝕠𝕡𝕞𝕖𝕟𝕥 𝕒𝕟𝕕 𝕔𝕦𝕤𝕥𝕠𝕞 𝕒𝕡𝕡𝕝𝕚𝕔𝕒𝕥𝕚𝕠𝕟𝕤, 𝕒𝕡𝕡𝕝𝕚𝕔𝕒𝕥𝕚𝕠𝕟 𝕞𝕒𝕚𝕟𝕥𝕖𝕟𝕒𝕟𝕔𝕖, 𝕠𝕦𝕣 𝕠𝕗𝕗𝕤𝕙𝕠𝕣𝕖 𝕠𝕦𝕥𝕤𝕠𝕦𝕣𝕔𝕚𝕟𝕘 𝕔𝕠𝕞𝕡𝕒𝕟𝕪 𝕨𝕚𝕝𝕝 𝕒𝕔𝕔𝕠𝕞𝕡𝕒𝕟𝕪 𝕪𝕠𝕦 𝕚𝕟 𝕪𝕠𝕦𝕣 𝕀𝕋 𝕕𝕖𝕧𝕖𝕝𝕠𝕡𝕞𝕖𝕟𝕥! ℂ𝕠𝕟𝕥𝕒𝕔𝕥 𝕦𝕤 𝕟𝕠𝕨!
Word-of-mouth marketing
Within successful marketing, nothing is stronger than a recommendation from a real consumer. Buyers are always looking for what other consumers are saying about the products and services that interest them. Technology and social media have made it possible for consumers to share their honest opinions and experiences with a wide audience.
Brands must capitalize on positive reviews, and know how to deal with negative or false reviews. Online reputation management has become a decisive success factor.
The paradox of impulse buying
According to news giant Time, 52% of millennials are more likely than any other generation to make impulse purchases. A buyer's emotional state often triggers the move to action. Positive or negative, emotions are increasingly driving purchases. As a result, marketers need to integrate emotional connections with consumers into their advertising campaigns and website design.
Green priorities
Thanks to, or because of the pandemic, online shopping has become the primary purchasing channel for many consumers around the world. As the urgency to fight climate change increases, this change in consumer habits places environmental concerns in the spotlight. With rapidly changing consumer expectations, and a more stringent regulatory outlook, the shift to sustainable online shopping is inevitable and ultimately preferred by today's new digital consumers.
Connected Awareness
Digital consumers are constantly connected and able to communicate in real time through a variety of devices: a smartphone, a tablet, a laptop, a personal computer, or even all at once. As a result, today's consumers are much better informed than previous generations, using the latest technologies daily in order to stay updated about products, services, prices and competition.
Honest marketing
The new digital consumers confront the veracity of brand messages with third-party sources, which are usually other consumers. If they detect dishonesty or manipulation within a brand's message, their trust will be skewed and they will easily head over to similar offers available from competitors. The consequences for breaching the trust of your customers can be far more dangerous than losing a single customer.
Nowadays, almost all consumers have a profile on social networks, through which they can express themselves without filters. While a complaint over the phone is already formidable, imagine the business repercussions of a viral tweet or Facebook post exposing your company's bad practices.
Take advantage of the Metaverse Store
Virtual commerce technology has the potential to take online shopping to the next level. These changes began with the use of augmented and virtual reality, but are gradually being extended to immersive virtual worlds such as the Metaverse. Adding new dimensions to the online experience, these new technologies have the ability to recreate elements of the physical world.
For example, apparel brands will use 3D modelling to offer virtual dressing rooms for their customers. Through an avatar, consumers can try on clothes based on their representation and custom measurements. They will no longer need to visit a physical store in order to test how certain clothes look on them.