The Fundamentals of Data Protection
Malware and ransomware downloaded on computer systems via spam and phishing emails, denial of service (DoS) attacks and zero-day exploits are some of the tools employed by hackers and cyber criminals to compromise data systems around the world on a daily basis.
In 2022, the cost of cybercrime in the US alone was $8.4 trillion and the average cost of one data breach was $9.4 million. Despite the rise of data breaches during the last year, system failures and/or human error still ranked among the top three reasons for why data is lost.
By being proactive, you can mitigate the risks and ensure the safety of your company's data. In this article the offshore outsourcing company Bocasay explains how your organization can establish best practices for data security.
What types of data require protection?
Business data is any sort of information related to a company and its activities. This can include:
Correspondence of the company with suppliers and customers.
Sales numbers.
Growth projections.
Private customer information.
Classified data on unreleased products.
Depending on the type of business you have, your customers' personal information can be the most valuable and high-risk set of data stored on your systems. Data can be stored either locally within the premises of your business, or remotely on what is commonly referred to as the Cloud.
Types of Data Threats:
👉Data Loss:Results in the destruction or deletion of information. This can happen intentionally or unintentionally, either through human error or system failures.
👉Data Corruption:Human error, system failures and/or power outages can sometimes corrupt data and render it unusable.
👉Data Breach: This often refers to a security violation. During a breach, sensitive information is viewed, altered, copied, used, and shared by unauthorized individuals.
𝕐𝕠𝕦𝕣 𝕔𝕠𝕞𝕡𝕒𝕟𝕪 𝕕𝕖𝕤𝕖𝕣𝕧𝕖𝕤 𝕥𝕙𝕖 𝕓𝕖𝕤𝕥 𝕤𝕠𝕗𝕥𝕨𝕒𝕣𝕖 𝕒𝕟𝕕 𝕥𝕠𝕠𝕝𝕤. 𝕊𝕠 𝕨𝕙𝕪 𝕟𝕠𝕥 𝕚𝕟𝕧𝕖𝕤𝕥 𝕚𝕟 𝕔𝕦𝕤𝕥𝕠𝕞-𝕞𝕒𝕕𝕖 𝕤𝕠𝕗𝕥𝕨𝕒𝕣𝕖? 𝕋𝕙𝕖 𝕠𝕗𝕗𝕤𝕙𝕠𝕣𝕖 𝕠𝕦𝕥𝕤𝕠𝕦𝕣𝕔𝕚𝕟𝕘 𝕔𝕠𝕞𝕒𝕡𝕟𝕪 𝔹𝕠𝕔𝕒𝕤𝕒𝕪 𝕡𝕦𝕥𝕤 𝕒𝕥 𝕪𝕠𝕦𝕣 𝕕𝕚𝕤𝕡𝕠𝕤𝕒𝕝 𝕚𝕥𝕤 𝕓𝕖𝕤𝕥 𝕖𝕩𝕡𝕖𝕣𝕥𝕤 𝕥𝕠 𝕕𝕖𝕧𝕖𝕝𝕠𝕡 𝕥𝕙𝕖 𝕀𝕋 𝕡𝕣𝕠𝕕𝕦𝕔𝕥 𝕞𝕠𝕤𝕥 𝕒𝕕𝕒𝕡𝕥𝕖𝕕 𝕥𝕠 𝕥𝕙𝕖 𝕟𝕖𝕖𝕕𝕤 𝕠𝕗 𝕪𝕠𝕦𝕣 𝕔𝕠𝕞𝕡𝕒𝕟𝕪. ℂ𝕠𝕟𝕥𝕒𝕔𝕥 𝕦𝕤 𝕥𝕠𝕕𝕒𝕪 𝕒𝕟𝕕 𝕒𝕤𝕜 𝕗𝕠𝕣 𝕪𝕠𝕦𝕣 𝕗𝕣𝕖𝕖 𝕢𝕦𝕠𝕥𝕖!
What is Data Protection?
In an interconnected world where vast volumes of data are exchanged in real-time, data protection is the process by which private companies, public organizations, and governments safeguard the private information of individuals.
Why is data protection important for business?
Today, data and its analysis are the driving force behind business innovation. How you store and protect the vast volumes of data created by your business on a daily basis demands constant attention. Depending on where you are based and where you conduct your business, laws, and regulations that govern data protection can vary.
While in the EU there is a unified General Data Protection Regulation (GDPR), considered to be the strictest in the world, in the US there is no single unified Protection regulation. Regulatory compliance can save you from unwanted disciplinary action, which in turn can lead to:
Fines.
License removal.
Loss of customer trust.
Loss of profits.
A robust data protection strategy can help you reduce risk and respond quickly to potential threats.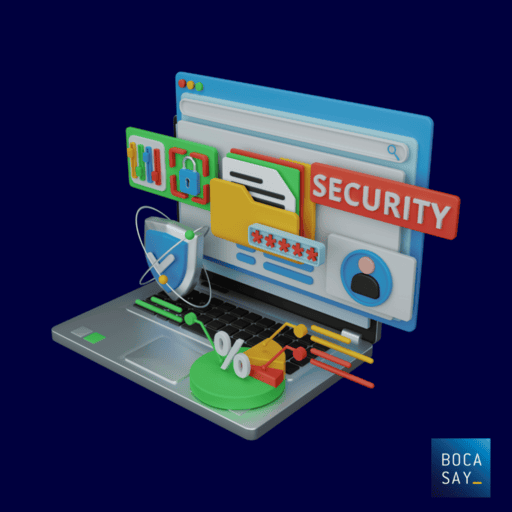 Let's examine some basic steps to ensure the protection of the data your business handles.
✅ Data Assessment: Depending on your line of work or market sector , the volume and types of data you handle might vary. Evaluate what types of data your business handles, and classify it according to sensitivity.
✅ Risk Assessment: Determine what constitutes risk towards the data you store and decide where you will store it. A commercial cloud-based service might be enough for a small retail business and a decentralized server system can be more efficient for a supermarket chain.
In contrast, a financial institution can opt for a dedicated server service with robust security whereas a government organization can add physical security as an extra layer of protection.
✅Back-up: Arrange for regular backups of crucial business data and for regular maintenance sessions for the operating systems that manage this data. This way you can restore both in case of system failure, human error or malicious attack, with a minimum disruption to your organization.
✅System Protection: Install antivirus and anti-spyware software, activate a firewall, and encrypt your data. Always remember to create an efficient access management plan, that clearly defines who can access the data you have stored in your systems, and in what way.
You might decide that employees who handle low-sensitivity data might use just a password to access it, whereas your CEO might use a two-way verification system.
As an extra layer of security, you can issue your employees with cell phones and computers that are used only for work and restrict online access to email, messaging, and basic search capabilities.
✅Staff Awareness: Educate your employees on the importance of data protection. A security chain is as strong as its weakest link. Make data protection part of your corporate culture and educate your staff on how to access and handle data on your systems.
Organize training seminars to teach them how to identify potential threats and implement best practices for maximizing data protection.
Additionally, create a plan of action for them to follow in case such threats are detected and assign a person to collect these reports and assess the threat level on a regular basis.
These steps will allow you to limit the risks of data leakage, breach or loss. You can also call on cybersecurity or web development companies, such as the offshore outsourcing company Bocasay, to advise and guide you as best as possible in protecting your data.