The Importance of Data Back-Up
Backing up collected data is an important part of data management. Backups protect against human error, hardware failure, virus attacks, power outages and natural disasters. When these errors occur, backups save time and money.
In this article, IT specialist Bocasay, an offshore outsourcing company, examines a range of reasons why it is absolutely essential to back up and protect your data.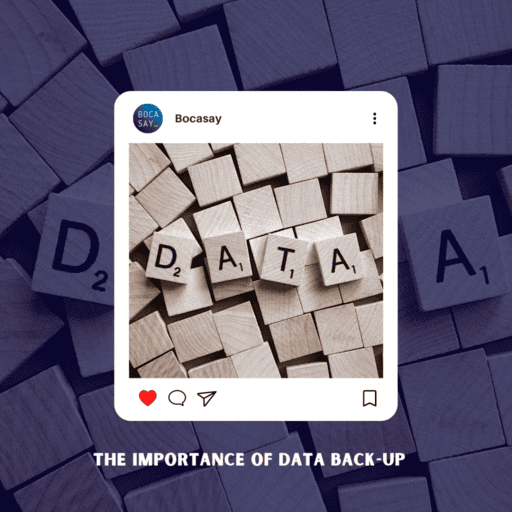 What is Data Backup?
Data backup is making copies of scanned data and other business information in case the data becomes corrupted, deleted or lost. You can then use the backup copy to restore or recover your data for business continuity and disaster recovery.
Many IT departments create multiple backup copies, keeping one copy on site for quick recovery and a second copy off-site, or in the cloud. This typically occurs in the event that the onsite copy is damaged due to a natural or man-made disaster.
Early common methods of backing up data involved downloading data from the computer's hard drive onto a set of small diskettes, which were stored in physical containers.
Since then, the emergence of technology has made it possible to back up data remotely and download huge amounts of data to small portable devices. Cloud services and related options facilitate remote data storage, so that data is secure if an entire facility or site is compromised, while RAID, or mirroring technologies provide automated backup options.
Why is backing up computer data important?
To protect against cyber attacks
Cyber-attacks have become more common in recent years, so having a data backup and recovery solution is paramount. Even if your system is compromised or encrypted by ransomware, you can rest easy knowing that you have a clean copy of your data stored elsewhere. This allows you to repair the damage caused by ransomware attacks without giving in to blackmail from cybercriminals.
To save money
Missing data can be costly, especially if you have to recreate the lost data from scratch. In addition, the downtime caused by lost data can also negatively impact your business efficiency and customer trust. Implementing a reliable data backup and recovery solution will ultimately save you unnecessary costs.
To reduce outages or downtime
Data loss can be very disruptive to your business. However, with data backups, you can easily restore recent copies of your data, so there's no need to interrupt operations to redo lost work. High-end data backup solutions ensure fast recovery times for critical data to maximize uptime.
For maintaining a trusted relationship with customers
Losing customer data can damage your company's reputation and the trust they place in you. Implementing a well-designed backup strategy shows that you take data security seriously and assures customers that their data is in good hands.
𝕎𝕒𝕟𝕥 𝕥𝕠 𝕤𝕥𝕒𝕪 𝕔𝕠𝕞𝕡𝕖𝕥𝕚𝕥𝕚𝕧𝕖 𝕚𝕟 𝕪𝕠𝕦𝕣 𝕚𝕟𝕕𝕦𝕤𝕥𝕣𝕪 𝕓𝕪 𝕓𝕠𝕠𝕤𝕥𝕚𝕟𝕘 𝕪𝕠𝕦𝕣 𝕕𝕚𝕘𝕚𝕥𝕒𝕝 𝕥𝕣𝕒𝕟𝕤𝕗𝕠𝕣𝕞𝕒𝕥𝕚𝕠𝕟? ℂ𝕒𝕝𝕝 𝕠𝕟 𝔹𝕠𝕔𝕒𝕤𝕒𝕪 𝕠𝕗𝕗𝕤𝕙𝕠𝕣𝕖 𝕠𝕦𝕥𝕤𝕠𝕦𝕣𝕔𝕚𝕟𝕘 𝕔𝕠𝕞𝕡𝕒𝕟𝕪. 𝕆𝕦𝕣 𝕥𝕒𝕝𝕖𝕟𝕥𝕖𝕕 𝕕𝕖𝕧𝕖𝕝𝕠𝕡𝕖𝕣𝕤 𝕒𝕣𝕖 𝕒𝕥 𝕪𝕠𝕦𝕣 𝕤𝕖𝕣𝕓𝕧𝕚𝕔𝕖 𝕥𝕠 𝕞𝕖𝕖𝕥 𝕪𝕠𝕦𝕣 𝕕𝕚𝕘𝕚𝕥𝕒𝕝 𝕔𝕙𝕒𝕝𝕝𝕖𝕟𝕘𝕖𝕤! ℂ𝕠𝕟𝕥𝕒𝕔𝕥 𝕦𝕤 𝕥𝕠 𝕘𝕖𝕥 𝕪𝕠𝕦𝕣 𝕗𝕣𝕖𝕖 𝕢𝕦𝕠𝕥𝕖!
The Most Common Data Backup Methods
Cloud
Cloud storage is a great way to create online backups. This service can store files, photos or any other type of data. The Cloud can be used as a primary or secondary backup for a monthly fee. You can then use this space to store your backups. Most providers offer encryption services so that your data is secure when stored in the Cloud.
You can access your backups in from any computer or mobile device with an internet connection. You can use cloud storage providers such as Google Drive, iCloud, Dropbox, Backblaze, iDrive and Microsoft OneDrive.
Cloud storage has several advantages over other data backup methods:
Easy and convenient: Backing up your data to the cloud is quick and easy. You can do it from anywhere and you don't need any special equipment or software.
Safe and secure: Cloud storage is a safe way to store your data. Your data is stored on servers protected from physical and logical threats and encrypted while in transit.
Affordable: Cloud storage is very affordable, especially when you compare it to the cost of purchasing and maintaining your storage infrastructure.
Scalable: As your data needs grow, you can easily scale your cloud storage to meet those needs.
Network Attached Storage (NAS)
If your data is valuable, invest in a network attached storage (NAS) device. NAS is a dedicated server that provides storage and file sharing for your home or small business network. Unlike an external hard drive plugged into your router, a NAS is designed to be always on and connected so you can access your data anytime and from anywhere.
There are many advantages to using a NAS, but the two most important are reliability and security. Your data is stored on a dedicated server, which means it's not exposed to the same risks as a PC or laptop.
For example, if your computer crashes or gets hacked, your data will still be safe on the NAS. NAS devices also come with a host of security features such as password protection and encryption that helps protect your data from prying eyes.
Online Backup Service
You can back up your data using an online backup service by:
Encrypting your files.
Scheduling regular backups.
Storing backup files in a secure location.
They offer security features such as file encryption and password protection. Most online backup services also allow you to store your backup files in a secure location to ensure your data is safe and protected.
Regardless of the method you choose, a solid backup and data protection strategy is essential to the smooth operation of any business.