Why you should consider Offshore IT Development?
Outsourcing is an increasingly common practice for companies of all sizes that are seeking to improve their operational efficiency and profitability. This strategy involves outsourcing certain processes or services to external providers rather than having to manage them in-house.
In this article, Bocasay, your offshore it outsourcing expert, provides an overview of the benefits of outsourcing your IT development and explains how you can integrate outsourcing into your web, mobile or software application strategy.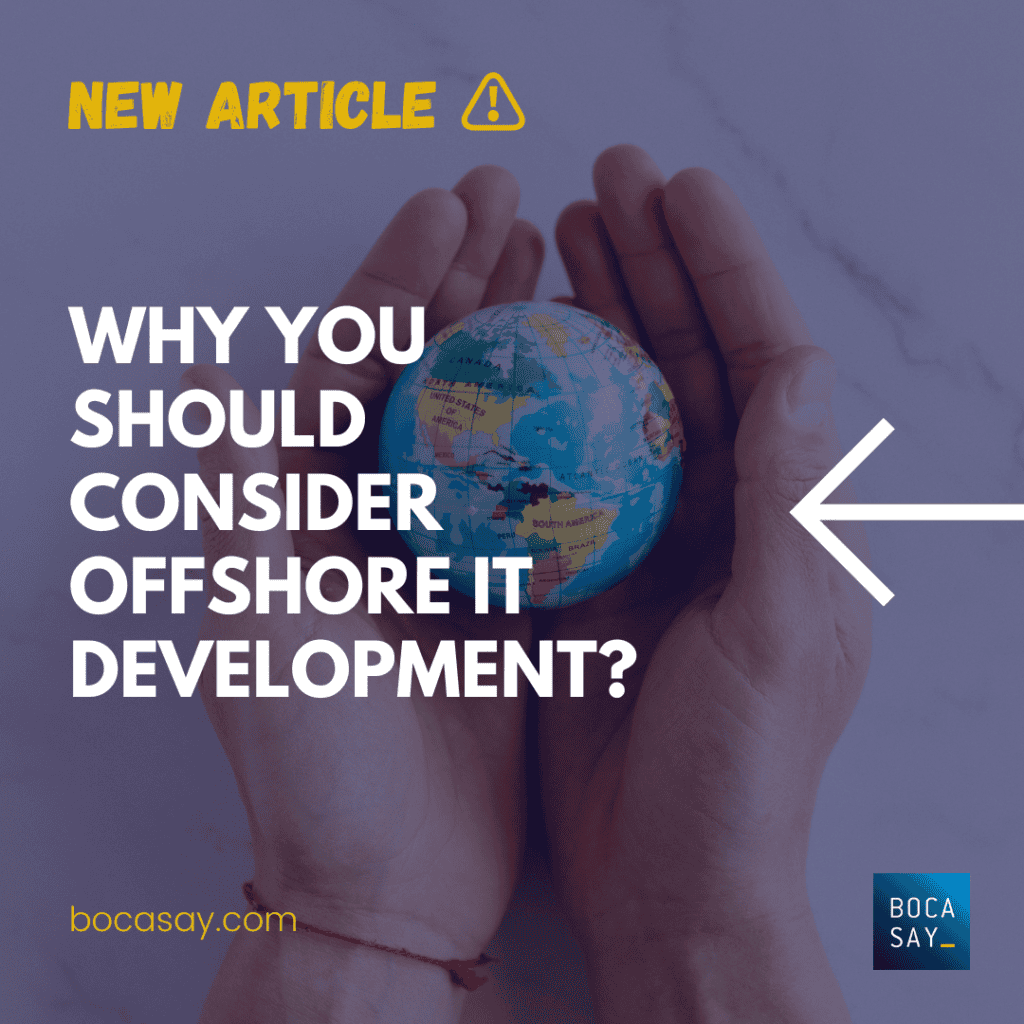 Consider offshore IT development with experts from Bocasay ©Pexels
What is Offshore Software Development?
Offshore IT development, also known as offshore it outsourcing, involves outsourcing a part, or all of the software development process, to a third-party company. An offshore outsourcing partner-company is ultimately located in a foreign country, often in a region where labor costs are lower than in the company's home country.
In other words, offshore IT development involves the offshoring of certain software development activities that can include the following:
Programming.
Design.
Maintenance.
Testing and quality assurance.
This practice provides financial benefits, while retaining control over the development process and deliverables. The benefits of offshore IT development include the following:
Cost savings.
Greater flexibility.
Access to a global talent pool.
Specialized skills.
Reduced time-to-market.
However, there are also potential challenges to consider when choosing to outsource your project to an offshore IT partner. Prepare and arm yourself to deal with challenges such as:
Language and cultural barriers,
Time zone differences,
Data security,
The quality of the services provided.
etc.
Why outsource your web or mobile application?
There are several reasons why a company might choose to outsource some of its processes or services. Offshore IT outsourcing is very common within a range of digital solution development projects.
For example, outsourcing is necessary when:
You do not have the ability to manage the project internally.
You do not have an available development team yet.
You do not have enough experience in the chosen technology or simply in IT project management (which is, it must be said, a profession in its own right and cannot be improvised).
You have other projects that need your attention and you need to devote all your resources to them without delay.
If you're a fledgling startup, your budget is surely limited and it's not certain that you can regularly attract investors to support an entire department. In this case, outsourcing is the best option.
Here are some more concrete reasons about why executives and decision makers are turning to IT outsourcing:
Cost savings
Outsourcing reduces labor, infrastructure, technology and administrative costs for the company.
Access to specialized skills
This practice allows a company to access specific skills and expertise that are not available in-house.
Flexibility
Outsourcing allows a company to focus on its core business while outsourcing non-core processes or services to external providers. This can make the company more agile and flexible.
Quality improvement
External providers are able to offer a higher quality of service due to their expertise and experience.
Risk management
Choosing an outsourcer makes it easier to manage the risks associated with outsourced processes or services by transferring responsibility to specialized external providers.
Expand geographic reach
Outsourcing is a performance driver for companies that want to expand their geographic reach by accessing foreign markets or partnering with international providers.
Focus on strategic priorities
By outsourcing its activities, a company can focus on its core strategic priorities, such as innovation, growth, or new product development.
However, it is important to note that outsourcing can be associated with the following risks and challenges:
Loss of control over project progress through a lack of quality communication.
Insufficient quality of delivery if the team is not adapted or not closely managed.
Hidden costs.
Risks to intellectual property protection.
Complications in managing relationships with external suppliers.
Before making an outsourcing decision, you should carefully evaluate the benefits and risks, and select an appropriate external vendor based on your specific needs.
Outsource efficiently and gain competitiveness with our highly skilled and cost–effective offshore outsourcing solution. Your Bocasay IT development outsourcing expert is by your side to achieve all your digital goals! Contact our team today and get your free quote.
How to choose the best country for Web, Mobile or Software Development outsourcing
Choosing the best country for IT outsourcing depends on several criteria.
Here are the main criteria to consider when selecting countries for outsourcing:
Cost
Cost is a crucial factor in guiding your decision. Countries with the lowest labor costs in the market may be more attractive to companies. It depends on your objectives.
Quality
The quality of services provided is another key criterion. Companies should ensure that offshore service providers have a solid reputation for quality work.
Skills and expertise
The skills and expertise of the professionals in the offshore country should be taken into account, as this will have an impact on the quality and productivity of the services provided.
Corporate culture
Cultural differences are likely to affect communication and understanding of expectations, quality standards and deadlines. It is important to look for countries that have a similar business culture, or experience, working with companies in your region.
Political stability
The political and economic stability of the country is not to be overlooked. This will ensure that the outsourcing is done in a stable and predictable environment.
Security
Security of data and intellectual property is a key consideration. Companies should ensure that offshore countries have strict data protection laws and regulations.
Time zone
The time difference between the offshore country and the company's home country is likely to impact communication and collaboration.
Resource availability
Companies must ensure that the offshore country has sufficient resources available to meet their needs.
Offshore IT has many advantages, but it is important to choose the right provider ©Canva
What are the best destinations for offshore IT development?
Choosing the best destinations for offshore IT development depends on several factors such as quality, cost, time zone, availability of skills, language, political stability, security…
Here are some of the most popular destinations for offshore IT development:
India
India is probably the top choice in terms of offshore IT development due to its large talent pool, competitive cost and expertise in IT.
Philippines
The Philippines is a popular destination for offshore IT development due to its skilled workforce, competitive cost, and Western-like corporate culture.
Eastern Europe
Eastern European countries such as Ukraine, Romania, and Poland are becoming increasingly popular due to their highly skilled workforce, competitive cost, and geographic proximity to Europe.
Latin America
Latin American countries such as Mexico, Brazil, and Argentina are growing in the offshore IT development sector due to their geographic proximity to the United States and their skilled workforce.
Southeast Asia
Southeast Asian countries such as Vietnam, Bangladesh, and Sri Lanka are also increasingly popular destinations for offshore IT development due to their skilled personnel, competitive cost, and geographic proximity to Asia.
Conclusion
Outsourcing is a very common practice for companies looking to improve operational efficiency and profitability. The reasons for outsourcing can vary, but before you make your decision, it is important to select an appropriate external provider based on key relevant criteria. Once these factors have been considered, outsourcing can be an effective strategy to help companies focus on their core business and improve their competitiveness in the marketplace.