The Spectacular Evolution of Software in Fintech: the Art of Creating Financial Innovation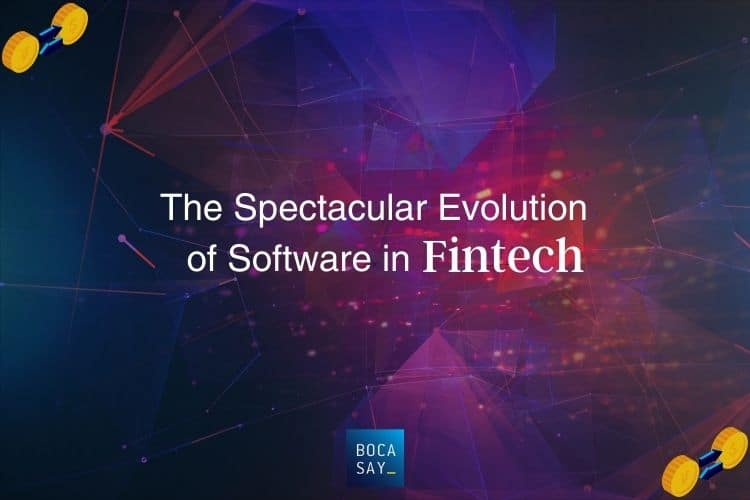 Today, fintech is one of the innovation engines redefining the financial services landscape. At the heart of this revolution is software, the technological creations acting as catalysts for major changes in the financial industry. 
In this article, we explore the incredible development of software in fintech, its essential roles and the latest advances.
Providing food for thought for companies wishing to develop their own fintech technology solution, we also discuss the various strengths of choosing to outsource IT development to Vietnam rather than France.
The Technological Backbone of the Fintech Revolution
Fintech is the fertile ground where innovation thrives, and software, apps and web and mobile are the seeds that have germinated radical change.
As English author Chris Skinner points out:
"Innovation in fintech doesn't keep pace, it creates it."
Software Development, Web and Mobile Applications as Drivers of Innovation
Software development in the finance sector has paved the way for new financial management solutions. Take Robinhood, for example. Robinhood stands out as an investment application from the USA. This tool is a pioneer in the principle of zero-cost trading in financial instruments, such as equities and ETFs* (Electronic Funds Transfer System).
*ETFs, for the uninitiated, represent a form of collective investment that strives to replicate as closely as possible the variations in a stock market index, whether it's an upward spiral or an abysmal plunge.
The Robinhood tool uses machine learning algorithms to personalize investment recommendations according to the user's profile. This personalization is a crucial and strategic step that democratizes trading and makes investing accessible and attractive to a wider audience.
The Benefits of Custom Software Development
Unlike traditional systems, software developed specifically for a particular business model offers unrivalled flexibility. They enable fintech companies to adapt quickly to the evolving needs of end-users. The neo-bank N26, for example, has enjoyed dazzling growth thanks to its ability to evolve in correlation with changes in market demand.
The Benefits of Software Development in Vietnam
Choosing to entrust the development of your customized software to Vietnam rather than France proves to be a wise strategy, as it offers a panoply of crucial and attractive advantages. Over and above simple savings, this choice allows you to benefit from the wealth of Vietnamese technical know-how, the flexibility of our teams and much more.
Here is an overview of these advantages, supported by some concrete examples:
Excellence at a competitive cost: One of the major strengths of the Dragon's land lies in its advantageous labor cost. This implies that your software project benefits from significantly more affordable daily development rates than in France. For example, the cost of developing a custom mobile application or website in France is three times higher than in Vietnam.

High-level technical expertise: Vietnam is rich in IT talents. Its developers, engineers and software designers are known for their advanced skills. Companies like VNG Corporation, based in Vietnam, have successfully developed globally renowned online games such as "ZingSpeed" and "Audition."
*VNG Corporation was founded in 2004. This exceptional firm stands out for its expertise in digital content, virtual entertainment, social media, and also operates an online video game e-commerce website.
Agility and responsiveness: Vietnamese development teams are known for their flexibility and their ability to quickly adapt to project requirements changes. A clear example of this agility is the rapid development of e-commerce solutions for international companies, which can be done in just a few weeks.

Time-Zone Difference Savings: The time difference between France and Vietnam can be an advantage when used wisely. By leveraging this difference, it is possible to have Vietnamese developers working on your project continuously, 24 hours a day. This significantly accelerates the development process.

Modern technological infrastructure: Vietnam is heavily investing in its technological infrastructure, creating environments conducive to the development of high-tech solutions. A notable example is the Saigon Hi-Tech Park, which encourages technological innovation and IT investments.

Diverse developer community: Vietnam is home to a continuously expanding developer community that excels in a variety of skills. This provides you access to a multitude of technical resources to precisely meet your specific needs. We can also mention the creation of the Vietnamese messaging application Zalo, which has become a successful local alternative to WhatsApp.

Commitment to quality: Vietnamese companies are very focused on adhering to international quality standards and adopt the best software development practices. This ensures the reliability of your product, as exemplified by the growth of the Vietnamese startup lozi.vn, which specializes, among other things, in online restaurant search and reservations.
In summary, choosing to offshore your software development to Vietnam instead of keeping it in France is an economic approach. You can easily build tech team in vietnam. Making this choice combines technical expertise, cost reduction, agility, and a commitment to quality.
Security at the Heart of Development
Recent security incidents in fintech have underlined the importance of cybersecurity. Companies are investing heavily in advanced technologies to protect sensitive customer data, reinforcing the vital aspect of security in financial software development.
Emerging Technologies in Fintech
Fintech is the breeding ground for the technologies of the future. Among them, blockchain, artificial intelligence and Big Data play a leading role.
The rise of blockchain marked a major revolution in the field of financial transactions, introducing the concept of decentralized trust. To illustrate this advancement, we can take the example of Ethereum's smart contracts, a true embodiment of this revolution. These contracts enable automated execution of agreements, resulting in a significant reduction in costs and delays, thus adding a new dimension to the efficiency of financial transactions.
Artificial intelligence and Big Data stand as the cornerstones of a new era of information. As Cassie Kozyrkov, a South African data scientist and statistician points out, data is now the equivalent of the precious "black gold" of the economy.
Artificial intelligence acts as a refinery that transforms data into crucial information. We can observe the use of AI and Big Data analysis in areas such as fraud detection, personalization of financial services and the enhancement of risk management. These advancements breathe new life into the financial sector by optimizing these operations and strengthening their competitiveness.
Lastly, the importance of user interface (UI) friendliness and user experience (UX) cannot be underestimated. Take PayPal, a true model in this regard, for example. Its intuitive interface greatly facilitates international payments, creating an exceptionally smooth user experience. User-friendliness is a major asset for customer retention and increasing the efficiency of financial services.
Software, and the creativity they require, represent the craftship of the current financial innovations transforming the fintech industry. Through all these recent examples and emerging trends, we can clearly see how these technological tools are redefining financial services. Furthermore, build tech team in Vietnam is one of the cost-effective strategies for French SMEs to develop their financial applications at a lower cost.