The Complete Guide to Successfully Navigate the World of Offshore Outsourcing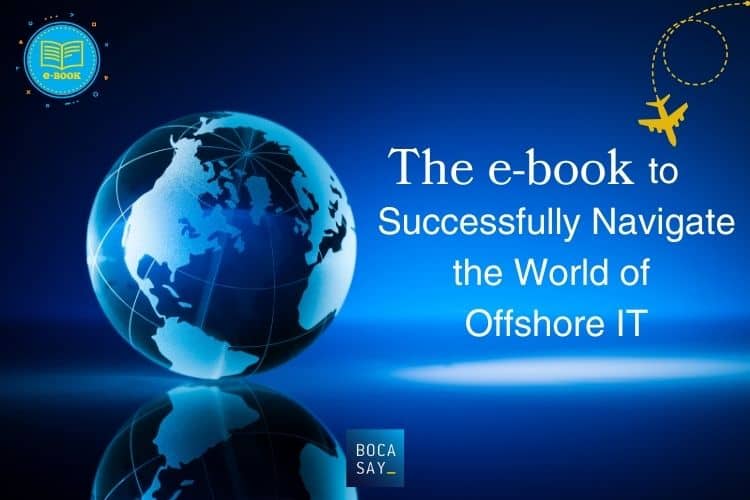 In order remain competitive in the development of software, web applications, or mobile apps, many companies choose offshore IT outsourcing to meet their evolving IT development needs.
In this endeavor, it is not easy to find the right fit among the multitude of options on the market. How do you choose the right offshore service provider and ensure the success of your project?
In this article, we will explore the advantages of offshore outsourcing, best practices for selecting service providers and how to guarantee the success of your project through effective communication.
Last but not least, we offer you the opportunity to download our latest e-book, and entitled 'How to Succeed in Offshore Software Development Projects.'
The Best Reasons to Use IT Offshoring
The first point to consider is why so many companies turn to IT offshoring. Outsourcing abroad offers a multitude of benefits. First and foremost, it reduces development costs. Outsourcing to countries with lower labor costs can save you up to 60% compared to in-house development. Furthermore, it saves time because experienced service providers are generally ready to work on your project immediately, thanks to their substantial pool of technical resources. Choosing this solution for your next application development project allows you to focus on the strategic elements of your business, leaving the development experts to bring your technological vision to life.
How to Choose the Most Suitable Offshore Outsourcing Service Provider for Your Project
Choosing the right offshore service provider is essential. Imagine you are looking for the best crew for a ship exploring new horizons. It is highly likely that you would recruit experienced and reliable sailors, not inexperienced novices. The same applies to your offshore IT project; you are looking for a service provider with a solid track record, proven technical skills, and meaningful and verifiable references. Additionally, you should ensure that the service provider has a corporate culture and values that are compatible with yours for a harmonious collaboration.
Evaluating and Calculating the Economic Gains of Offshore Outsourcing
When embarking on an uncertain journey, it is essential to assess the costs and benefits. The Harvard Business Review reminds us of the importance of quantifying the advantages of IT offshoring when undertaking such a project.
Use appropriate evaluation methods to estimate potential savings, productivity gains and long-term benefits.
Don't forget to include costs related to:
Communication,
Management,
and possible delays.
5 Key Tips for the Success of Your Offshore IT Project
To ensure that your journey into offshore outsourcing is successful, follow these tips:
Solid Planning: Before embarking on your project, create a detailed plan, including clear specifications, deadlines and deliverables.

Effective Management: Entrust the management of your project to competent professionals and ensure that communication is smooth and continuous.

Rigorous Testing: Conduct thorough functional testing to ensure the overall quality of the final product. It's better to detect problems early, as it will certainly be more costly later.

Flexibility: Be prepared to adjust your course according to changing circumstances. Agility is more important than ever for success.

Rewards and Recognition: Don't forget to acknowledge the hard work of your offshore development team. A happy crew is more likely to deliver outstanding results.
What Type of Digital Communication to Establish with Your Offshore Development Teams?
Communication is the rudder that steers your ship towards success. You must establish an effective communication channel with your offshore development team. First, ensure that you have a dedicated primary point of contact for communication between teams. Use project management tools to track the progress of feature deliveries and make sure to hold regular meetings to discuss issues and necessary adjustments.
In summary, navigating the waters of IT offshore outsourcing can be a fruitful journey, provided you choose the right crew, calculate costs and benefits, plan carefully and maintain effective communication throughout the journey.
By following these tips, your offshore IT project is likely to become a resounding success and your company can explore new technological horizons while saving time and money.
So, set sail and let the advantages of IT offshoring guide you toward a prosperous digital future.
With Bocasay, for example, you can build a tech team in Vietnam to offshore in better conditions your it project.
BONUS: 10 Reasons to Download Our E-book 'How to Succeed in Offshore Software Development Projects'
Download our e-book for free here!
And become an expert in preparing and conducting offshore IT outsourcing projects.
What you will learn from this e-book:
Invaluable Expertise: Our e-book is full of advice from specialists with over 10 years of experience in offshore outsourcing, inspired by the industry's best practices.

Substantial Savings: Discover how to save significantly on development costs through IT offshoring.

Wise Selection: Learn to choose the ideal offshore service provider for your project with our strategically selected industry tips.

Precise Calculations: Accurately assess potential savings with our dedicated economic calculation methods.

Management Tips: Maximize project management efficiency with our key advice.

Foolproof Testing: Learn the importance of rigorous testing to ensure the quality of your final product.

Agile Mindset: Discover how agility can make a difference in the success of your IT project.

Motivation and Recognition: Learn how to keep an offshore team engaged and productive over time.

Effective Communication: Explore strategies for maintaining smooth communication with your offshore teams.

A Prosperous Digital Future: With our e-book, prepare to explore new technological horizons while making substantial savings.
Download our e-book now to embark on an exciting digital adventure while saving time and money. No need to wait to discover the keys to success in the world of IT offshore outsourcing!