Software development in the banking sector
Digital banking solutions are fast becoming the backbone of the fintech industry and a rapidly-flourishing e-commerce sector. Financial software solutions are in high demand.
Interested in a banking software development project? According to a recent report, the global market size for digital banking is expected to reach $12 trillion by the year 2026.
This impressive growth potential is centered on changing customer behaviors, an expanding fintech market, a growing e-commerce market and government policies.
Bocasay, your offshore outsourcing company, presents the key elements of custom software development for the banking and financial sector.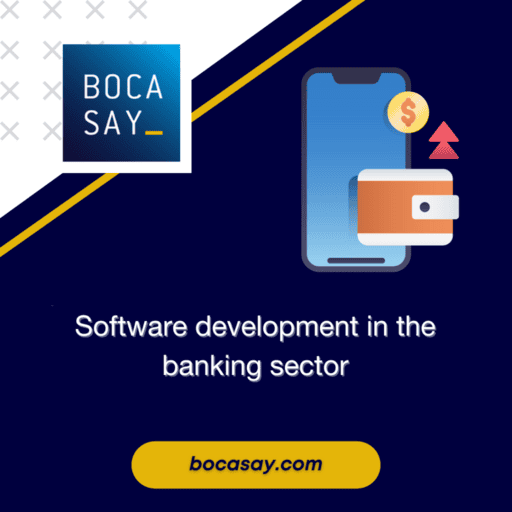 What is Banking Software Development?
Much like many other industries, banking is currently undergoing a rapid digital transformation. With ever-present internet connections and the overall increased reliance on mobile devices, financial institutions are racing to implement software solutions into their business operations. The days of waiting in line for customer service at your local bank will soon be a thing of the past.
Banking software is basically any enterprise software used by the banking sector in order to deliver and manage a wide range of financial products. Generally, retail banks use core banking software to record transactions and connect to interbank networks, while investment banks mostly use software that provides access to global capital markets.
The bottom line for banking software development is to provide the means to perform any type of banking activity anywhere with an internet connection. Within e-banking, software development is focused on automating various banking and financial processes so that administrators and customers can have a fast and simple banking experience through online banking platforms.
Digital Technologies Shaping the Future of Banking
Banks and other financial service providers are using cutting-edge digital technologies to optimize their customer experiences and to essentially provide real-time and intelligent data integration that improves product and service efficiency. Here are the top digital technologies currently being used in the banking and finance sectors:
Blockchain.
Robotic Process Automation.
Artificial Intelligence (AI).
Augmented Reality (AR).
Quantum Computing.
Hybrid Cloud Computing.
API Platforms.
Instant Payments.
Video-Collaboration.
Biometric Technology.
Types of Banking Software
The development of banking software incorporates the latest digital technologies and includes a wide range of software solutions and applications. Let's continue with an overview of three key software development areas that are in high-demand for banking and financial institutions:
Administrative Management Software
These types of software products predominantly facilitate essential everyday bank administration operations:
Task assignments.
Scheduling.
Goal monitoring.
Staff attendance.
Payroll systems.
Financial Operation and Management Software
A software development category that basically helps bank administrators to speed-up banking procedures with :
Transactional processes
Financial planning.
Budgeting.
Document management.
Customer Service Software
Core customer services in banking include:
Online transactions.
Loan management.
Mobile payments.
Credit card management.
This type of software ensures that customers can access services from any location. 
𝔻𝕠 𝕪𝕠𝕦 𝕙𝕒𝕧𝕖 𝕒𝕟 𝕀𝕋 𝕡𝕣𝕠𝕛𝕖𝕔𝕥, 𝕓𝕦𝕥 𝕕𝕠𝕟'𝕥 𝕜𝕟𝕠𝕨 𝕨𝕙𝕖𝕣𝕖 𝕥𝕠 𝕤𝕥𝕒𝕣𝕥? 𝕋𝕣𝕦𝕤𝕥 𝔹𝕠𝕔𝕒𝕤𝕒𝕪'𝕤 𝕚𝕟𝕥𝕖𝕣𝕟𝕒𝕥𝕚𝕠𝕟𝕒𝕝 𝕖𝕩𝕡𝕖𝕣𝕥𝕤 𝕥𝕠 𝕕𝕖𝕧𝕖𝕝𝕠𝕡 𝕋ℍ𝔼 𝕕𝕚𝕘𝕚𝕥𝕒𝕝 𝕤𝕠𝕝𝕦𝕥𝕚𝕠𝕟 𝕐𝕆𝕌 𝕟𝕖𝕖𝕕.
Key Tasks of Software Development for Banking
When developing software for banking and financial institutions, the essential tasks and goals are the following:
Increasing the efficiency of customer services and optimizing customer experiences.
Designing planning and reporting systems for effective financial management and bank risk control.
Automating complex banking transactions and the implementation of banking procedures.
Improving the overall accuracy of assessing customers' creditworthiness for loans and mortgages.
Establishing integration between ATMs, POS terminals, mobile applications and digital wallets.
Key Stages of Software Development for Banking
Refine your idea
First and foremost you need to consider what type of banking service you would like to deliver through a future software product. This involves exploring what potential clients might need from a particular service or product, and basically trying to identify methods of making their lives easier.
Your custom software should ideally provide a digital solution to a customer's or even an entire industry's problems and challenges.
Conduct Market Research
Once you have refined your banking software development idea, before even thinking about the specifics of development, it is absolutely essential to conduct an extensive market research by exploring your potential user base and by looking into similar products, competitors and features. You need to successfully identify what is missing from the specific market your software will aim to operate in.
Conduct a Feasibility Study
Is your software idea worth investing money in? You can answer the question by conducting a thorough feasibility study that performs a cost/benefit analysis, determines the technical resources you will need to develop the software, sets a timeline of the development process, as well as identifies the required human resources you will need in order to complete the project.
Choose a Software Development Partner
The success of your banking software product will depend on the crucial step of hiring an experienced team of software developers. For enterprise-level software solutions, it is often best to collaborate with a development agency that has a proven track record and relevant industry knowledge.
By choosing an experienced software development partner, your company can benefit from effective product development and communication procedures, as well as from access to talented software developers. 
Essential Software Development Skills for Banking
Dedicated software developers who develop products for banks and financial service providers must be proficient in the following skills:
Front-End Development
Back-End Development
Web Application Development
Mobile Application Development
Cloud Computing
Artificial Intelligence
Blockchain
Benefits of outsourcing your software development
Depending on their specific needs, capabilities and market sectors, companies around the world have a wide range of reasons for why they prefer outsourcing their IT development to offshore outsourcing company, instead of hiring in-house development teams. Here is a list of the main reasons:
→ Limited availability of skilled and in-country IT developers
→ Limited financial resources
→ Unable to provide scalability and flexibility
→ Looking for specific skill sets
→ Lack of productivity caused by inefficiency
→ Need to provide 24-hour services