Top Mobile Development Trends for 2023
Ever since Apple's first iPhone was released, it is important to remember that today's mobile application industry is only about 15 years old, with no signs of slowing down.
The mobile app economy significantly contributes to the global GDP and basically offers a range of unprecedented opportunities for both IT developers and digital advertisers.
Here's another impressive fun fact to consider: in 2022, according to data.ai, consumers were downloading more than 435,000 mobile applications per minute.
With inspiring numbers all around, are you wondering what your company should focus on in order to succeed in today's highly competitive and saturated mobile app market?
In this article, Bocasay, our offshore outsourcing company, provides a list of the top mobile development trends to consider for your application development projects in 2023.
What is Mobile Application Development?
Mobile application development involves anything that has to do with developing software specifically for mobile, wireless digital devices like smartphones and tablets.
Software applications designed for use with a particular mobile device will often take advantage of a wide range of unique features that are available within the device itself.
For example, it is quite common for various mobile health apps to integrate an iphone's temperature sensor or accelerometer within their core operation and functionality.
These days, the two most dominant mobile platforms are Apple's iOS and Google's Android, with a myriad of apps available on the Apple App Store and Google Play Store.
2023 Trends in Mobile Development
Mobile Payments
It is widely established that mobile users, especially young people, demand fast and easy payment solutions to be provided within a mobile application environment. As the global pandemic lockdown forced millions to switch to online payments, in 2020 alone, mobile payment app users increased by 300 million. With popular payment platforms like Apple Pay and Google Pay, companies these days need to integrate payment solutions within their mobile app development projects.
Cloud-Native
When compared with traditional mobile application development approaches, cloud-native applications offer companies cost-savings, scalability and faster application development timeframes.
Cloud development allows developers to easily and quickly launch mobile apps in the cloud, essentially benefitting from serverless computing, flexible scaling and smart automated back-end services.
Camera-Focus
As Covid-19 forced millions to work and socialize from home, video-calling has become much more common than it used to. With a range of popular apps offering video-calling services, mobile developers can no longer ignore the high quality cameras embedded within most smartphones today. By 2026, according to Statista, the market for video-conferencing is expected to reach $27.3 billion.
5G Connectivity
The next generation of wireless connectivity will flourish within the new year, and as companies implement 5G at full-scale, data will ultimately be delivered faster than previous years, efficiently supporting more users, devices and services.
For mobile developers, 5G means being able to deliver:
High-quality video streaming.
Lower latencies.
New functionalities powered by augmented and virtual realities.
User-Driven
In 2023, developers and companies will continue to focus on the value of user-driven innovation. This involves essential feedback which facilitates product and service optimization. Especially during the early stages of mobile app development, beta testing has allowed companies to benefit from feedback provided by dedicated 'early users', ultimately delivering better products that cater to user requirements.
Voice-Search
The increasing capabilities offered by voice-recognition technologies have revolutionized the way we perform online searches, especially in mobile environments. According to Statista, the world's voice recognition market is expected to reach $27.16 billion by 2026.
Within mobile development, finance and banking apps are already deploying voice technologies to enable customers to perform transactions with personal voice-enabled assistants. 
𝕋𝕣𝕦𝕤𝕥 𝕥𝕙𝕖 𝕖𝕩𝕡𝕖𝕣𝕥𝕤 𝕒𝕥 𝔹𝕠𝕔𝕒𝕤𝕒𝕪, 𝕒𝕟 𝕠𝕗𝕗𝕤𝕙𝕠𝕣𝕖 𝕀𝕋 𝕕𝕖𝕧𝕖𝕝𝕠𝕡𝕞𝕖𝕟𝕥 𝕔𝕖𝕟𝕥𝕖𝕣, 𝕥𝕠 𝕔𝕦𝕤𝕥𝕠𝕞𝕚𝕫𝕖 𝕞𝕠𝕓𝕚𝕝𝕖 𝕒𝕡𝕡𝕝𝕚𝕔𝕒𝕥𝕚𝕠𝕟𝕤 𝕥𝕙𝕒𝕥 𝕗𝕚𝕥 𝕪𝕠𝕦𝕣 𝕟𝕖𝕖𝕕𝕤. 𝔻𝕠 𝕪𝕠𝕦 𝕙𝕒𝕧𝕖 𝕒𝕟𝕪 𝕢𝕦𝕖𝕤𝕥𝕚𝕠𝕟𝕤? 𝔸𝕤𝕜 𝕦𝕤!
On-Demand
The continuing rise of the on-demand mobile service application market is expected to reach $335 billion by 2025. These types of apps include delivery services, healthcare consultations, transport and logistics, as well as platforms that provide clients with a wide range of services offered by freelancers.
Catering to users' ever-changing needs, successful on-demand app examples include Uber, FastAF, Epocrates and Doctor on Demand.
AR & VR 
Augmented and virtual reality technologies have improved a lot in recent years and will continue to enable mobile app developers to create immersive user-experiences, offering:
Engagement.
Interactivity.
Impressive visual elements.
With retail, design and gaming companies embracing the wonders of AR and VR, more and more mobile apps will integrate features like 3D models and augmented graphics.
AI Chatbots
While chatbots have been used for at least a decade, their artificial intelligence capabilities have significantly improved. They have now become standard practice for companies offering next-level customer services within their websites, mobile applications and even social media accounts.
Mobile app developers will continue to integrate AI chatbots, making apps more interactive and ensuring that users can easily resolve any troubleshooting issues within the application as fast as possible.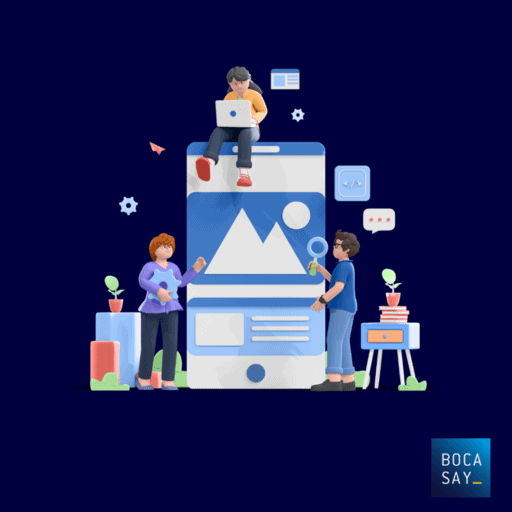 Why you should consider outsourcing your mobile app development 
Depending on their specific needs, capabilities and market sectors, companies around the world have a wide range of reasons for why they prefer outsourcing their IT development to offshore outsourcing companies, instead of hiring in-house development teams. Here is a list of the main reasons:
→ Limited availability of skilled and in-country IT developers.
→ Limited financial resources.
→ Unable to provide scalability and flexibility.
→ Looking for specific skill sets.
→ Lack of productivity caused by inefficiency.
→ Need to provide 24-hour services.
There are a number of benefits that come attached with working with an offshore outsourcing company like Bocasay :
Here is a short list of offshore IT benefits:
→ Cost-Savings.
→ Low-Risk.
→ Fast Time-to-Market.
→ Industry Experts.
→ Endless Talent.
→ Optimal Workflows.
→ Cutting-Edge Technologies.